Daniel Sellen Appointed New Director of Lawson Centre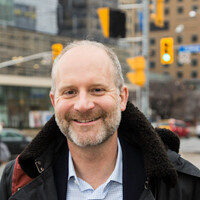 I'm pleased to announce the appointment of Professor Daniel Sellen as Director of the Centre for Child Nutrition and Health for a five-year term, effective January 1, 2017.
Daniel Sellen is cross-appointed in three faculties at the University of Toronto and is a Professor of Anthropology, Nutritional Sciences, and Social and Behavioural Sciences.  He is also Senior Resident Scholar at the SickKids Centre for Global Child Health. He has served in many administrative roles at UofT, including as a Vice Provostial Assessor for the Faculty of Medicine, as both a graduate coordinator and teaching assistant coordinator in the Faculty of Arts and Sciences, and most recently as the inaugural Associate Dean of Research at the Dalla Lana School of Public Health.
An expert in child nutrition, human ecology and international health with over 25 years of experience leading cross-disciplinary studies of child and family nutrition security, Prof. Sellen has contributed to more than 70 original research articles published in peer reviewed scientific journals and books, and more than 280 invited lectures and presentations at academic institutions, organizations and scientific conferences. He has initiated or collaborated on research in a range of vulnerable communities in a dozen countries, including nomads in Tanzania, rural and urban low income families in Guatemala, Mexico, and Kenya, families living with HIV in Ghana and Kenya, adolescent mothers in Bangladesh, resettled refugees in Britain and America, and new Canadians.
A graduate of the University of Oxford, where he read zoology and biological anthropology, Prof. Sellen completed graduate studies in anthropology at the University of Michigan, and received his PhD in ecology and international nutrition from the University of California, Davis.  Prof. Sellen joined the University of Toronto in 2004 as Canada Research Chair in Human Ecology and Public Nutrition.
Please join me in congratulating Professor Sellen on his appointment to the Centre for Child Nutrition and Health.  I would also like to extend my thanks to Professor Harvey Anderson for his leadership as Director of the Centre since 2014.
Trevor Young
Dean, Faculty of Medicine
Vice-Provost, Relations with Health Care Institutions