Student Wins Award for Microbiome Research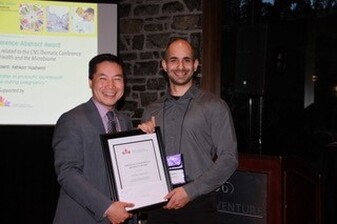 University of Toronto student Ashkan Hashemi won an award for his preclinical research on the transfer of probiotic bacteria from mother to fetus, at the Canadian Nutrition Society's recent annual conference in Montreal.
The award was for outstanding research related to the society's thematic conference, a parallel event in Toronto which this year focused on advances in nutrition, gut health and the microbiome.
"It's a nice honour, especially given the number of researchers who presented their work in what is now a very lively and dynamic area of study," said Hashemi, a Department of Nutritional Sciences master's student in the lab of Professor Elena Comelli, Lawson Family Chair in Microbiome Nutrition Research.
Hashemi's research showed that two specific strains of probiotic bacteria consumed by female mice during pregnancy turned up in the intestines of their offspring, before birth. The findings are the first to suggest that direct transfer of beneficial bacteria from mother to fetal intestine is possible.
(Probiotics are micro-organisms that contribute to a healthy gut microbial community and when taken in the right amounts, can aid digestion, boost immunity and reduce inflammation.)
The results also add to evidence from other studies in the last decade that suggest offspring in the womb are not sterile — contrary to the long-held belief that the womb is free of bacteria except in cases of infection.
Hashemi says his results are preliminary, and that there is still a lot of debate about the source of bacteria in all studies that show the womb is naturally not sterile. "But if our data prove reproducible, the transfer of probiotics from mother to fetus via dietary intake could become an exciting new avenue for research," Hashemi said.
Potential areas for clinical study include whether a mother's diet can significantly modify the microbiota of a fetus and infant, and whether probiotics administered during pregnancy might offset the sometimes negative effects on the microbiota of pre-term delivery and C-section. — Jim Oldfield