U of T scientist wins award for applying nutrition research to clinical practice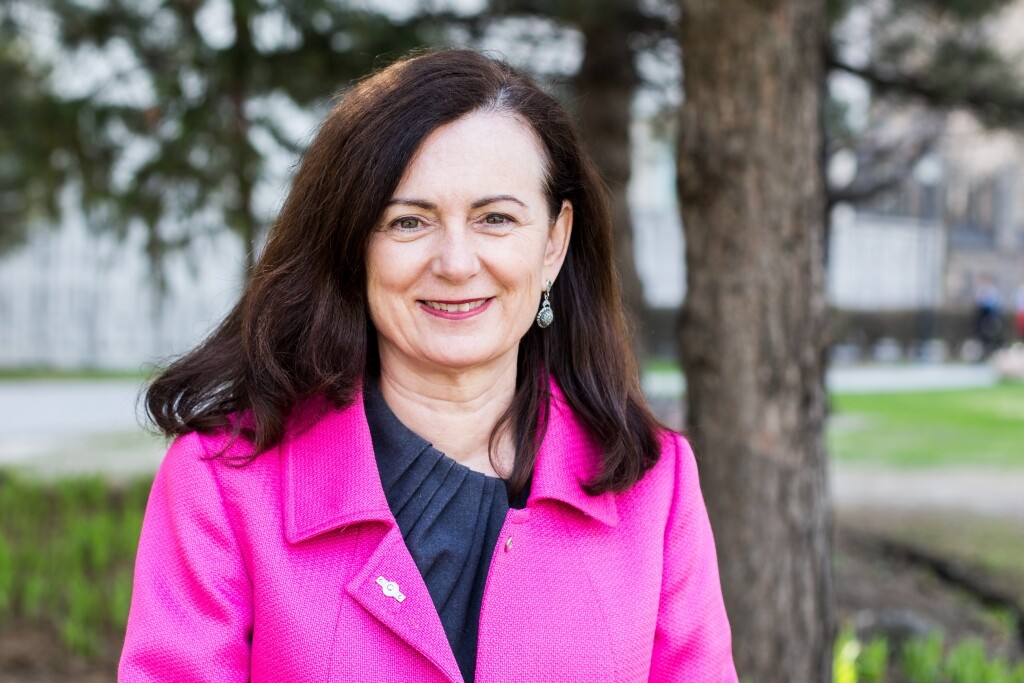 The Canadian Nutrition Society named University of Toronto Professor Deborah O'Connor the recipient of its 2015 Khursheed Jeejeebhoy Award for Best Application of Clinical Nutrition Research Findings to Clinical Practice. The award celebrates the U of T scientist's outstanding contributions in research and clinical interventions that address the nutritional needs of infants and their mothers.
O'Connor is a professor in the Department of Nutritional Sciences, senior associate scientist at SickKids Research Institute, and a researcher in the U of T Centre for Child Nutrition & Health.
"Professor O'Connor's great career of cutting-edge nutrition research and, most importantly, her achievements in transferring lab discoveries into practical clinical applications to improve the health of infants are acknowledged by this prestigious award from the Canadian Nutrition Society," says Mary L'Abbé, who is the Earle W. McHenry Professor and chair of the Department of Nutritional Sciences. "Their recognition of the University of Toronto's scientists is a testament that our nutrition research has a direct impact on the health and well-being of people in Canada and around the world."
O'Connor co-invented a milk fortifier, which is now used around the world to supplement human milk and boost preterm infants' development and growth. Additionally, she was part of a team that added long-chain polyunsaturated fatty acids to infant formula designed for preterm infants. These fatty acids, which are included in all preterm formulas sold in North America today, improve the neural development of vulnerable infants.
"The power of being able to solve nutritional problems that have a significant impact on the survival of young children is very motivating," says O'Connor.
O'Connor's research team, based at the Hospital for Sick Children, investigates the levels of folate in mothers' diet. Folate — or folic acid — is one of the B vitamins, which is a key element in the synthesis of DNA and RNA. Inadequate levels of folate in pregnant mothers have been shown to cause neural defects in their babies.
Together with Sharon Unger — a neonatologist at Mount Sinai Hospital and associate professor in the U of T Department of Paediatrics — O'Connor leads a CIHR-funded program of research investigating options for feeding very low birth weight infants at a Canada-wide consortium of neonatal intensive care units, which includes 18 sites in Ontario, and with plans to expand to Nova Scotia and British Columbia.
"The neonatal intensive care units that are part of this expanded network serve 40 per cent of low birth weight babies in the country. This allows us to look at the most important nutrition-related clinical questions and then incorporate the answers in clinical practice," says O'Connor.
Outside of her lab, O'Connor works as a dietitian at SickKids and also co-chairs the Rogers Hixon Ontario Human Milk Bank's advisory board. Housed at Mount Sinai Hospital, and in partnership with SickKids and Sunnybrook Hospitals, this milk bank provides a safe supply of human donor milk for low birth weight infants born in Ontario.
O'Connor's award is named after Khursheed Jeejeebhoy — professor emeritus in the U of T Departments of Nutritional Sciences and Medicine & Physiology — who pioneered many areas of nutrition research and its application in the clinical setting.