Donor Breast Milk May Curb Obesity, Student Explains in Three Minutes
Education, Policy & Data, Research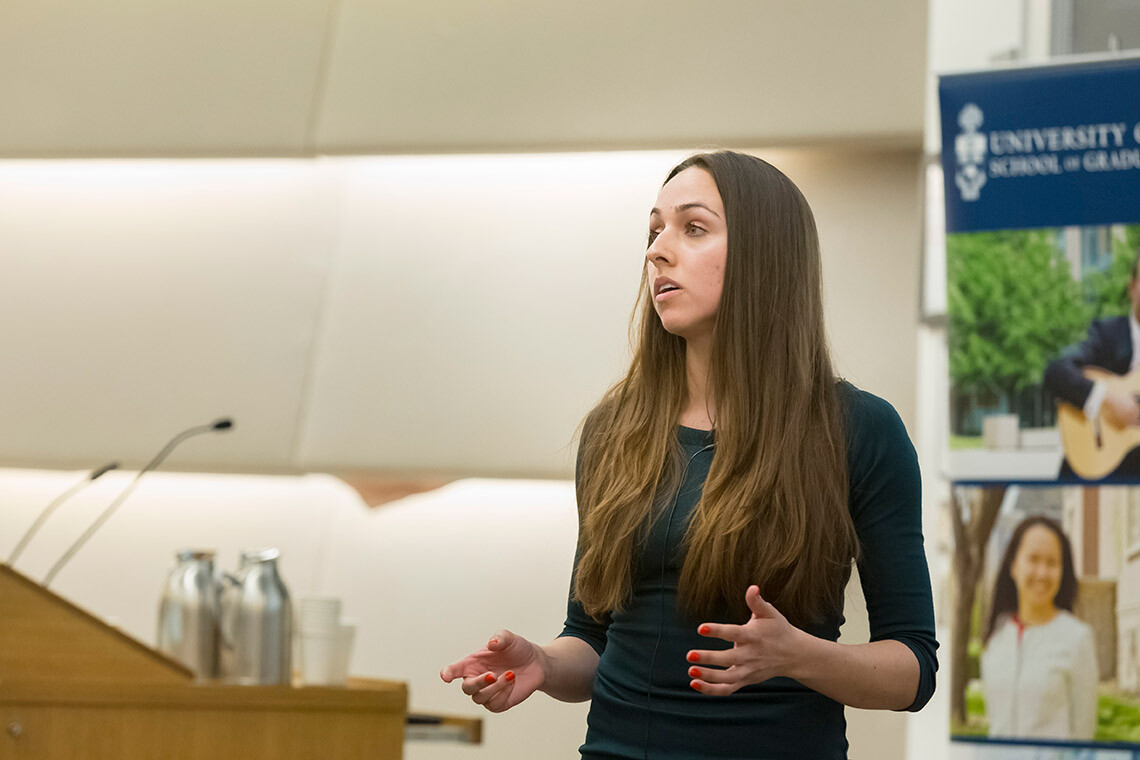 One of the biggest presentations of Meghan McGee's career so far was also the shortest. 
As part of a competition, the PhD candidate in the nutritional sciences program had to explain her dissertation of more than 125 pages to a lay audience in under three minutes.
McGee won the University of Toronto round of the Three Minute Thesis Competition, collecting a $1,000 prize and moving on to provincial finals at York University later this month. 
The competition challenges Canadian doctoral students to present their research in a compelling way to a panel of non-specialist judges.
"It's not an easy feat," McGee says, "but it's a very important skill for scientists to develop. We can talk about our projects at length, but if we can't simplify them so that everyone can understand, then it's not as useful anymore."
Her work focuses on improving the health outcomes of premature babies by using donor breast milk. Each year there are about 1,500 low birth weight babies born in Ontario.
About 70 per cent of mothers can't provide enough breast milk, so they require a supplement, McGee says. But it isn't yet known whether it's better to feed premature and underweight babies pre-term formula or donor breast milk.
"We know that when babies come a bit too early or too small, they for some reason have an increased risk of becoming obese in later life," McGee says.
McGee's research — conducted at The Hospital for Sick Children under the supervision of Professors Deborah O'Connor and Jill Hamilton, both researchers in the Joannah & Brian Lawson Centre for Child Nutrition — was a followup to a clinical trial done with babies over five years ago. McGee assessed the same children's diet, physical activity, cognitive skills and body composition at 5½ years old.
Scientists are still trying to understand why donor breast milk may be more beneficial than pre-term formula, McGee says. Once someone's body composition is altered in early childhood, she adds, it's very difficult to change later. "If we can intervene in early life then hopefully we can try and reduce the risk," she says. 
There is only one donor breast milk bank in the province, the Rogers Hixon Ontario Human Milk Bank at Mount Sinai Hospital. The bank collects milk from lactating women, pasteurizes it and distributes it by prescription to medically fragile babies in neonatal intensive care units across Ontario.
Not all these details could be squeezed into McGee's three-minute presentation, of course.
When she was practising for the U of T finals, she didn't bother presenting to her lab group and instead explained her research to non-experts like her parents and younger sister. She watched for signs of boredom or confusion: blank faces, yawns and people checking their phones. 
At the U of T competition, she was the second last to present. Her nerves almost got the better of her as she waited her turn and listened to the other finalists. But, partly inspired by a TED Talk on power poses, she found her confidence before taking the stage.
"We're very proud of the work that Meghan and the other competitors have done," says Luc De Nil, acting dean of the School of Graduate Studies. "They're working on fascinating projects, and answering important questions, but they've also learned how to explain why their research matters in terms that anyone can understand.
"As a public university, we have a responsibility to justify our work to the people of Ontario and Canada, and these students are very effective ambassadors in that effort."
The Canadian Institutes of Health Research funded this research through a Programmatic Grant In Foods and Health (principal investigators Prof. O'Connor and Prof. Sharon Unger, with Prof. Hamilton as a co-investigator).