Food Basics for Future Doctors: Culinary Medicine at U of T
Education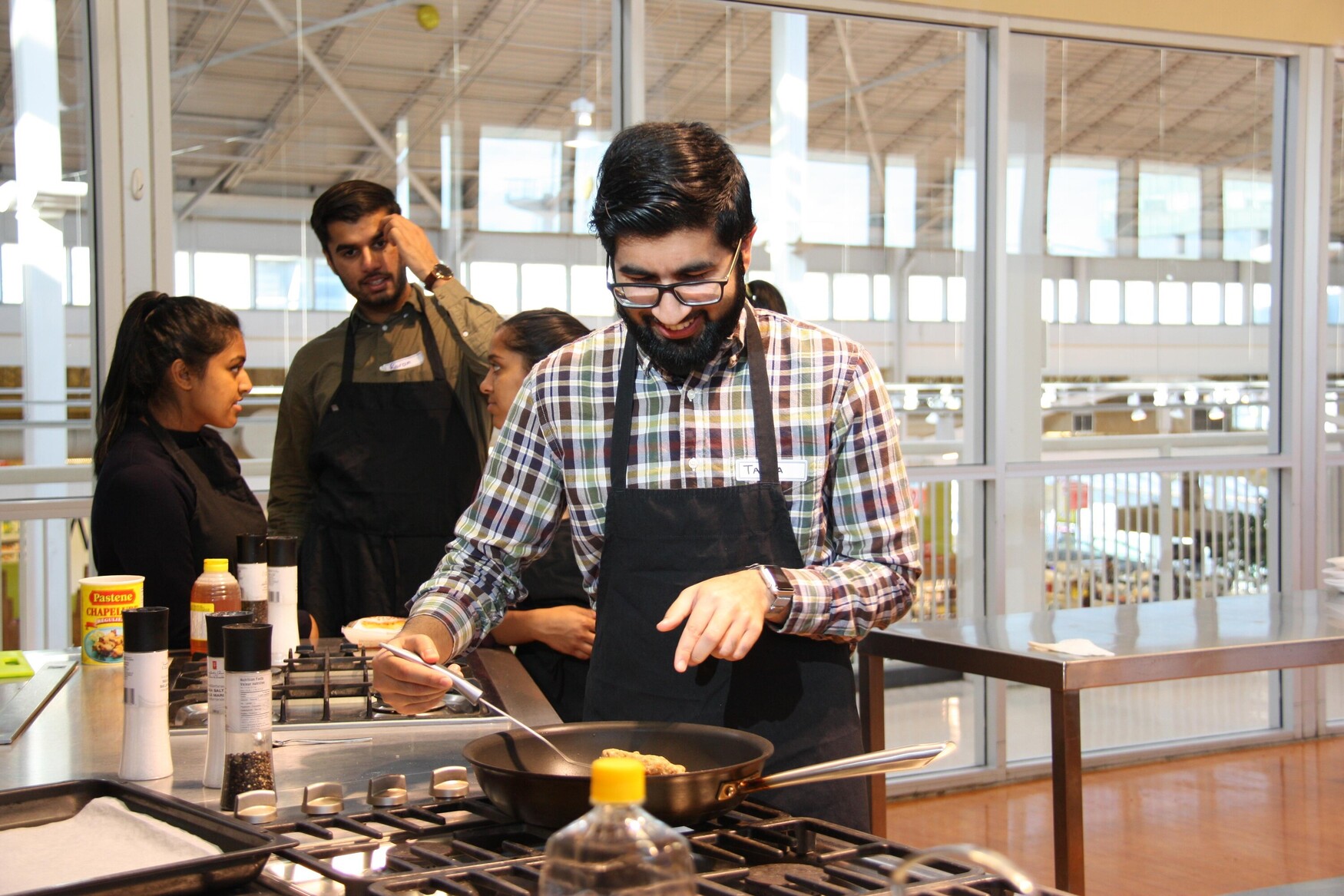 Taaha Muhammad recalls being in grade six when his mother, who had been away for two months, became so concerned about his sudden weight loss that she took him to the doctor. The doctor was completely unconcerned and never discussed diet — leaving his mother more upset than before.
The incident stuck with Muhammad and spurred a nagging question as he finished his undergraduate studies in health sciences and began medical school at the University of Toronto: where was nutrition in patient care and medical education?
A new culinary medicine event in U of T's revamped MD curriculum has begun to answer that question. Now in its second year, the half-day workshop provides students with hands-on training in how to buy and prepare healthy food cost-effectively, with a focus on practical tips they can pass on to patients.
"I'm very interested in helping patients avoid the doctor, and for preventive care a big step is good nutrition," says Muhammad, a first-year student. "It's a non-pharmacological, relatively simple approach to health that can have a really huge impact, so I'm glad to see it in the curriculum."
More than 250 first-year students participated in this year's workshop, which is a first among Canadian medical schools. The event included a Loblaws store tour with a registered dietitian on how to read labels, compare prices and find healthy food quickly, as well as a budgeting session and a cooking class where students made lentil burgers and Brussels sprouts salad.
Muhammad says all three sessions were helpful, especially the one on budgeting, where he learned that prices tend to be higher on items at eye level and frozen food is not always cheaper than fresh produce. On the store tour, he liked the '5 and 15' rule — for most nutrients, 5 per cent of daily intake is a little, 15 per cent is a lot.
He was also surprised to learn that Loblaws has a star system that rates products by healthfulness. "People don't always have time for nutritional details, and some seemingly healthy foods like yogurt can have a lot of added sugar," Muhammad says. "The stars can help sort all that out quickly."
Muhammad expressed a caveat about the cooking class, noting it may have created the illusion that cooking is easy because all the ingredients were laid out by Loblaws staff. But he says the experience did show that once prep work is done, following a recipe for budget-friendly food that's healthy and tastes good isn't too difficult.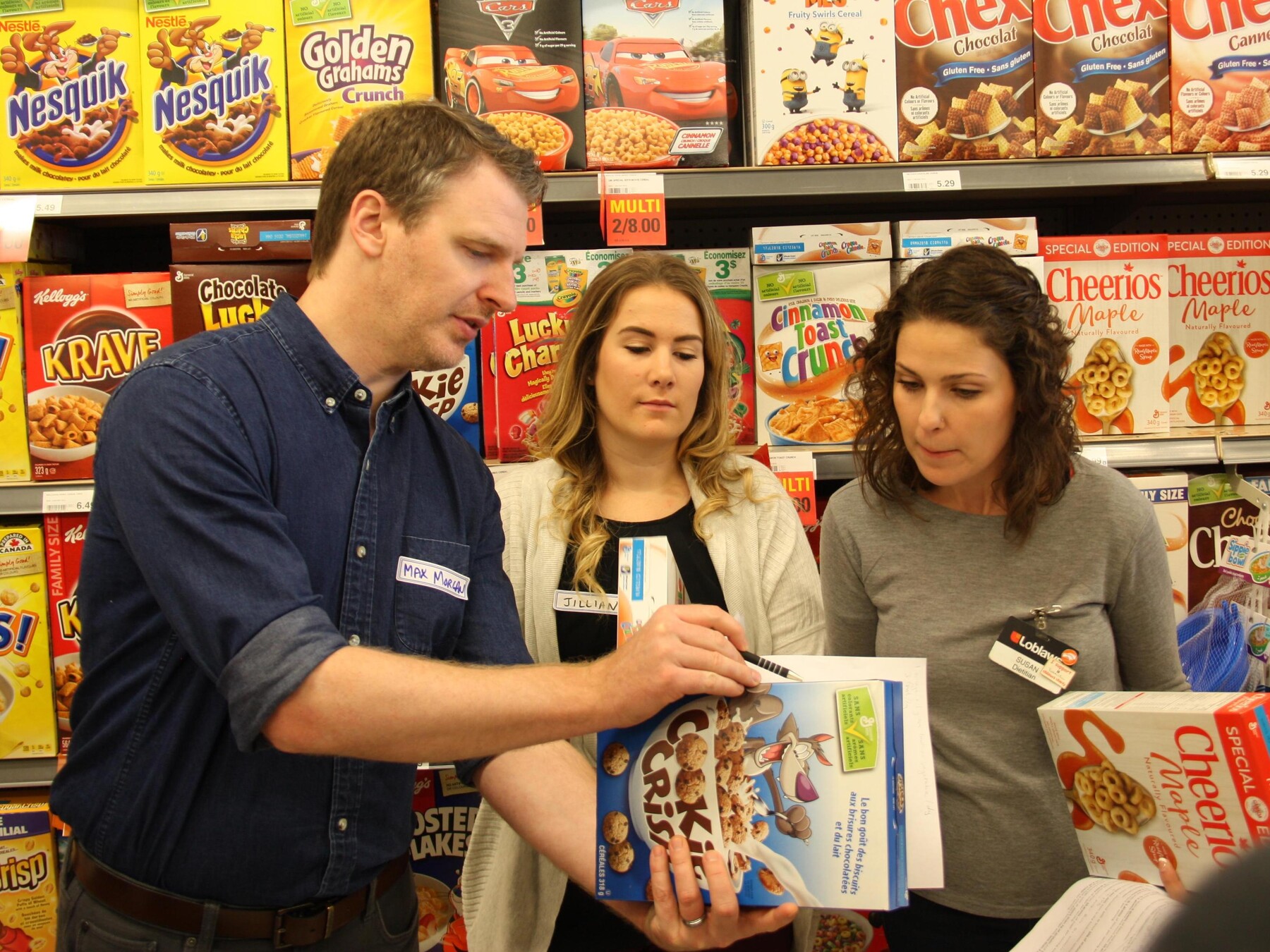 "A key objective of the cooking class is to build resiliency skills," says Rebecca Noseworthy, a registered dietitian who has worked with the Joannah & Brian Lawson Centre for Child Nutrition, which helped fund the creation of nutrition content for the MD Program. "These students have a long and stressful journey ahead in medical school and beyond, so they need to develop their ability to look after themselves."
The hope is that students will gain the skills and confidence to manage their eating habits long-term, which in turn should bolster their credibility when counselling patients about diet. "It's important for medical students to obtain both knowledge and skills in nutrition, especially given patient interest in the topic. So we encourage them to practice what they preach," says Noseworthy.
That perspective has been mostly absent in Canadian medical schools for years. Professor John Sievenpiper, the lifestyle medicine lead for the MD Program, led a literature review and environmental scan in 2014 that found medical students and physicians across the country felt dissatisfied with their nutrition education in medical school and were unprepared to address nutrition-related topics with their patients.
Sievenpiper worked with Noseworthy and other nutrition faculty and professionals, including SickKids dietitian Alissa Steinberg, to introduce culinary medicine at U of T. "It was clear that many students felt their nutrition training was inadequate," says Steinberg. "We wanted to fill that void early-on in their training, with practical knowledge on nutrition basics but also hopefully a few 'aha' moments through hands-on training."
The team created content for a full week of lifestyle medicine in the MD Program, which includes the culinary medicine workshop but also up-to-date instruction on exercise and active living, stress management, the links between chronic disease and obesity, as well as input from Professor Jill Hamilton and others on how communicate with patients about lifestyle — which can be a minefield for physicians. 
The group is also working to bring more lifestyle instruction into other areas of the MD curriculum, and continuing to refine nutrition content related to specific conditions, such as diabetes and high blood pressure (some of which is covered in the culinary medicine workshop). Their efforts could start paying clear dividends next fall, when the first students to get lifestyle training enter clerkship and begin to see patients.
Meanwhile, Muhammad and other students are re-thinking the role of nutrition in their own lives. "This was a one-time event, but I've noticed other students are more interested in lifestyle, and I'm now trying to implement healthier eating habits," says Muhammad. "And last week, I discussed what I learned with my family."
 
Watch a video about the 2016 culinary medicine workshop for medical students: